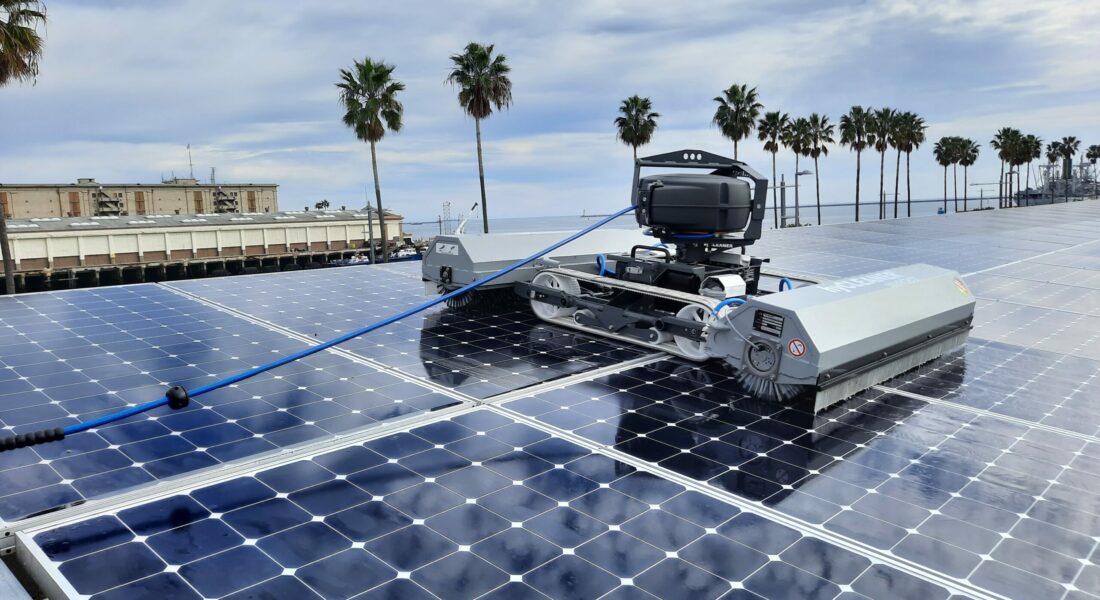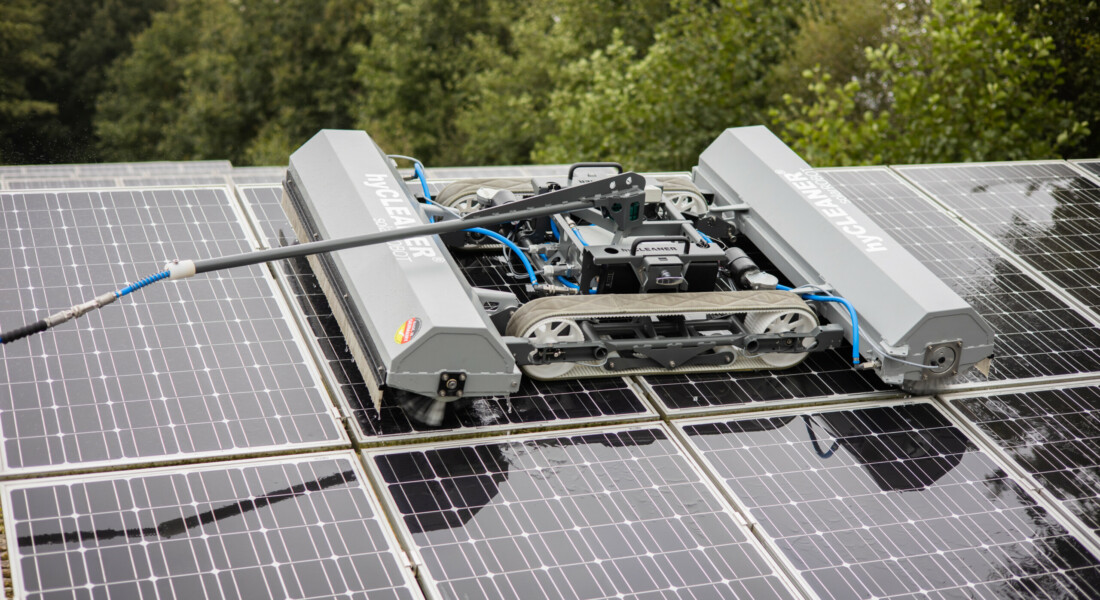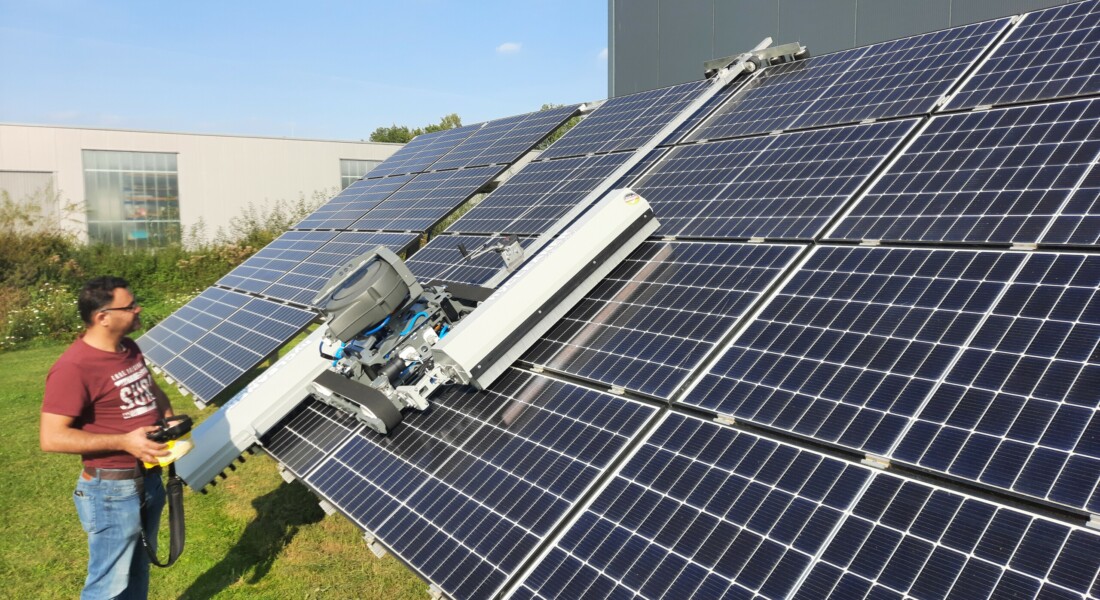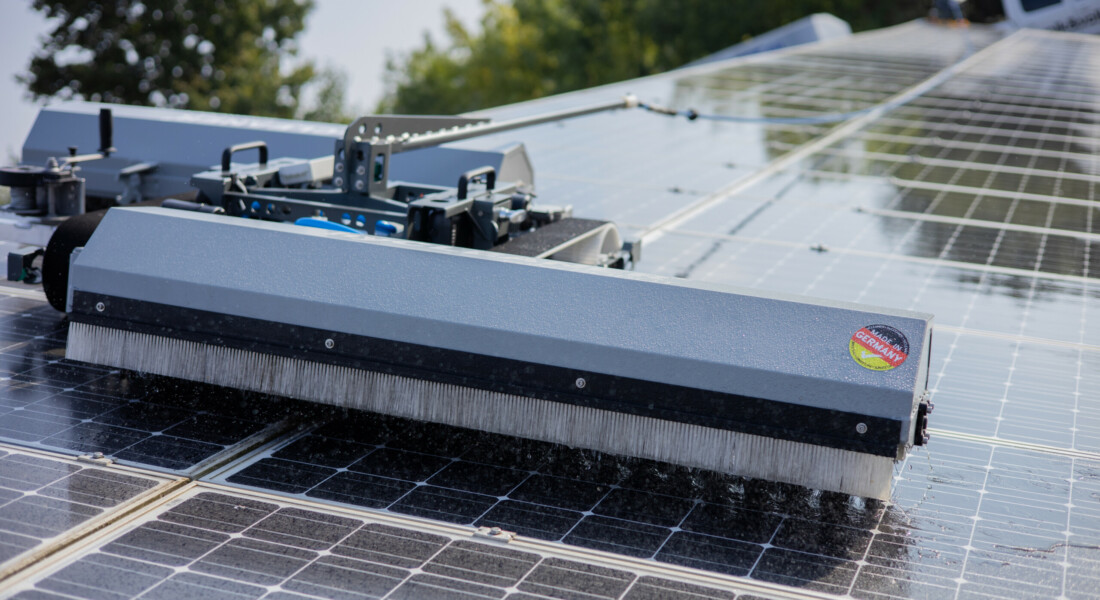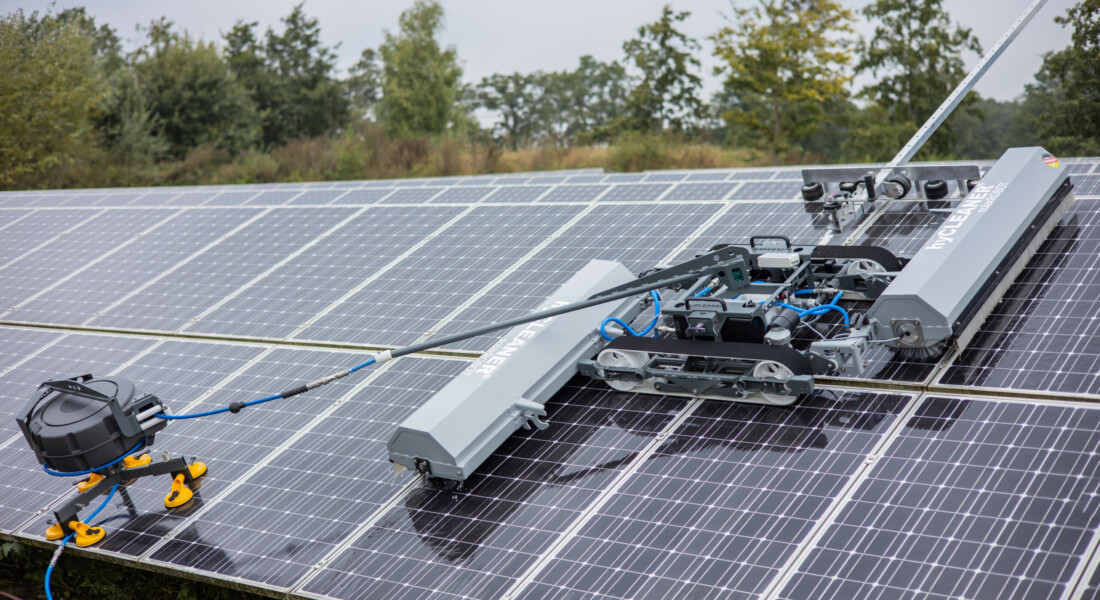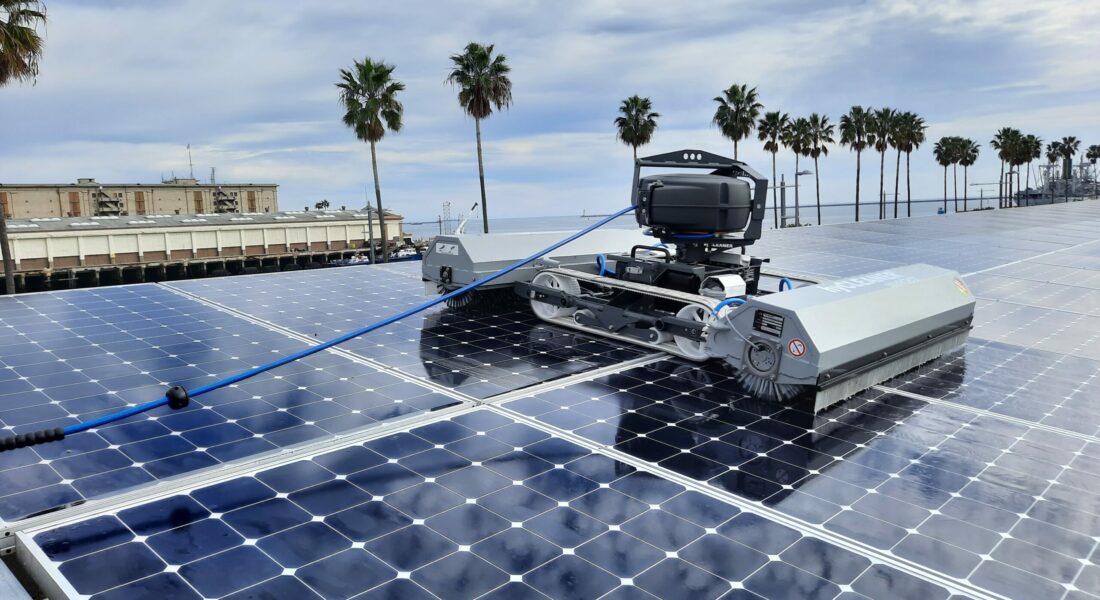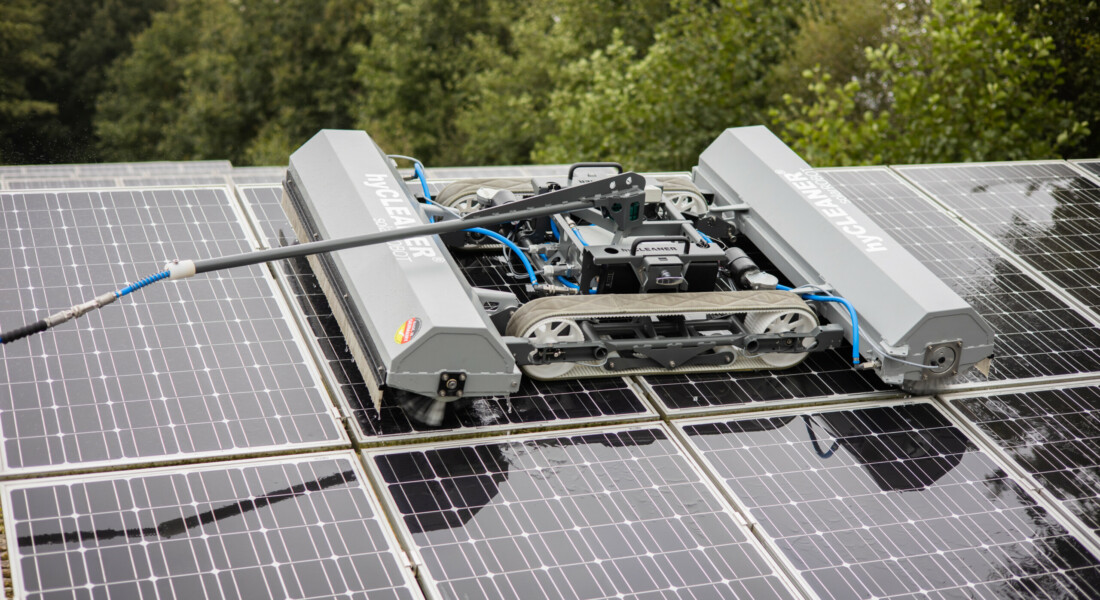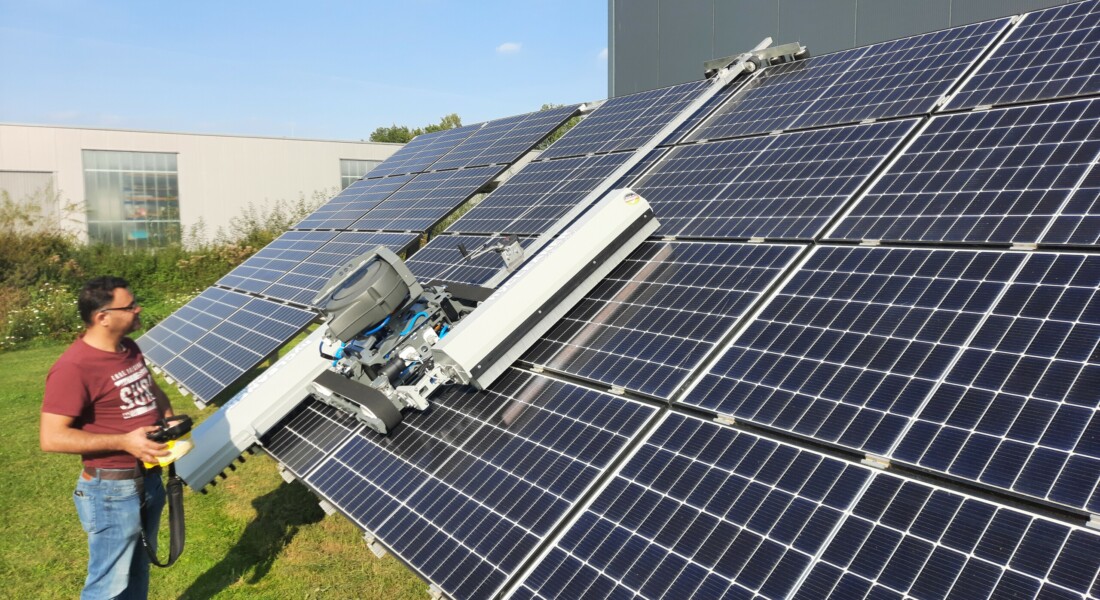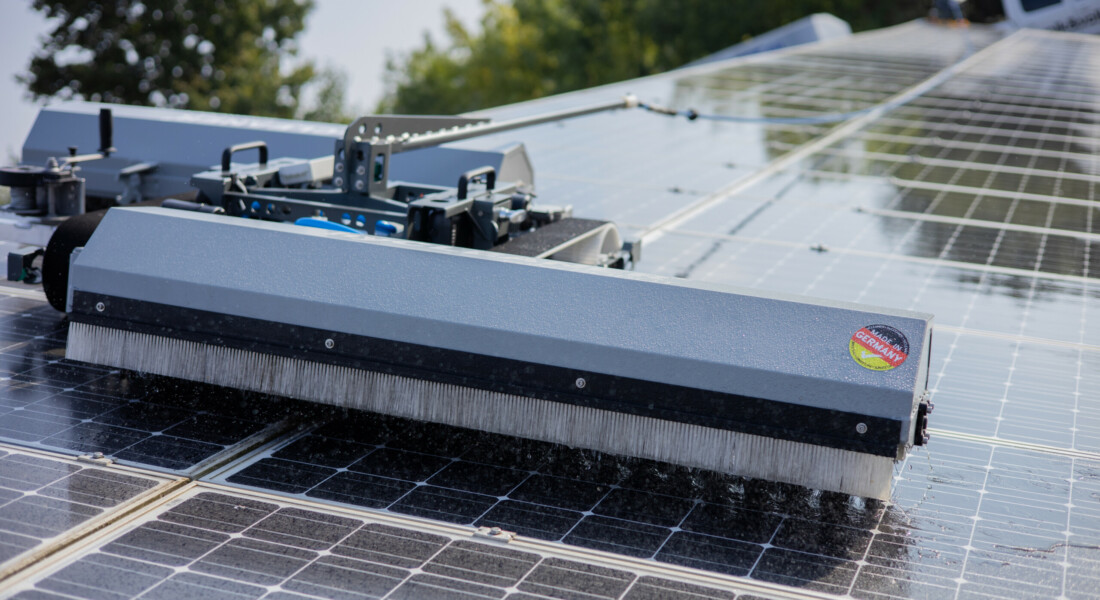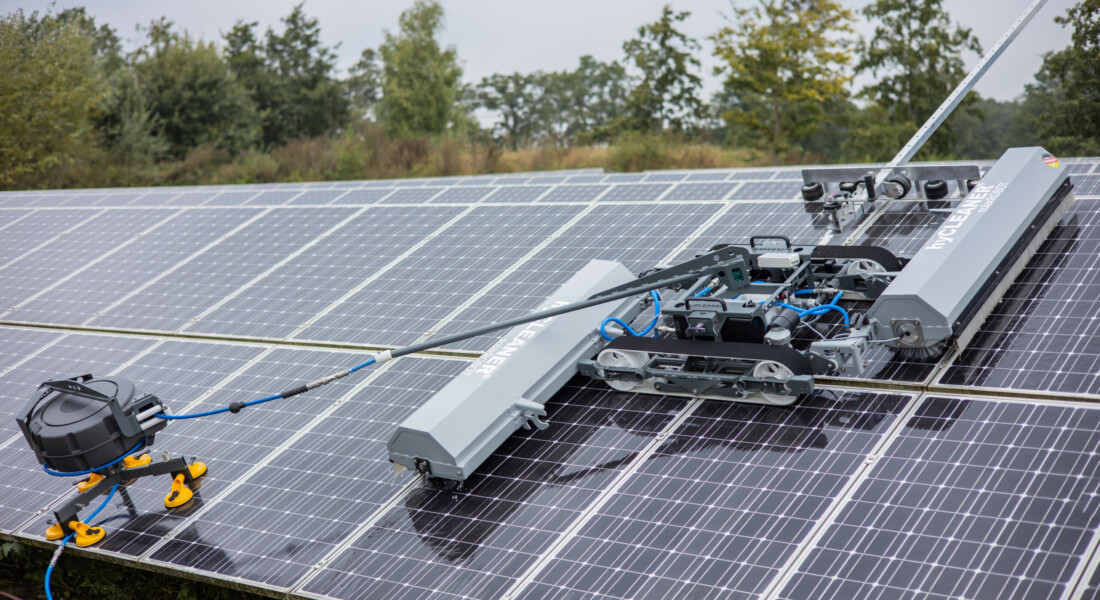 Solar panel cleaning robot - Product specification
The hyCLEANER solarROBOT® is the specialist for cleaning of ground-mounted PV systems and roof-mounted installations. In just a few steps, the machine is mounted and ready for use without the need of any tools. The integrated automated driving function with lane keeping system and speed control, allows the machine to drive independently over the panels. Safety first: Thanks to the standard edge detection system with fall protection sensors, the hyCLEANER® stops automatically when it reaches the edge of the solar panel.
Technical data of the standard solar panel cleaning robot
Frame with control unit
Overall length
± 575 mm
Overall width
± 685 mm
Overall height
± 270 mm
Weight


without brush system/chassis/batteries

± 11 kg
Crawler chassis
Overall length
± 1.030 mm
Overall width
± 340 mm
Overall height
± 285 mm
Weight


without driving pad

± 14.5 kg
| Brush system | |
| --- | --- |
| Overall length | ± 465 mm |
| Overall width | ± 1.180 mm |
| Overall height | ± 295 mm |
| Weight | ± 19 kg |
General data
Gradeability


depending on surface condition

max. 25°/ 47 %
Width of driving pad
± 0,10 m
Driving speed
± 2.2 km/h
| Washing brush | |
| --- | --- |
| Overall length | ± 1.100 mm |
| Diameter | ± 280 mm |
| Power supply | |
| --- | --- |
| Ion battery 36 V | max. 42 V |
| Weight | ± 2.5 kg |
Alterations in construction reserved
*Access to the hyCLEANER® training video is password protected. Please enter your personalized password on the following page. By entering the password, you agree to an analysis of your use of the password-protected area of our website, via Google Analytics.
Benefits for users
Easy operation of hyCLEANER solarROBOT® solar panel cleaning robot via radio-remote-control with a range of 100 m.
Adjustable driving speed.
Optimum cleaning results due to brush design and high circumferential speed of the bristle tips.
The self-supporting brush also ensures an easy cleaning of the edges.
No physical stress for the operator, therefore high and constantly good cleaning result from dawn till dusk.
Solar panel cleaning is possible even on transverse slopes.
The surface load is considerably below the allowed wind and snow loads.
Easy handling thanks to modular design and lightweight components.
Several fixing and fastening points allow a flat positioning of the solar panel cleaning robot hyCLEANER solarROBOT® on the solar surface.
Many fastening points for working in critical areas.
Use of rainwater, tap water and technical water is possible.
All types of water treatment systems and osmosis plants can be used.
Easy change of the driving pads via Velcro fastener.
Easy transportation.
Operating pressure 2-8 bar.
Economic arguments
Fast cleaning results can be achieved by the use of the solar panel cleaning robot – up to five times faster compared to manual cleaning methods.
Minimised water consumption, as water is consumed only during cleaning.
The whole hyCLEANER solarROBOT® concept is service-friendly and requires only low maintenance.
Eco-friendly: Perfect cleaning results without adding chemicals or other cleaning agents.
The solar panel cleaning robot can be adapted perfectly to different solar and photovoltaic plants thanks to a wide range of accessories.
Use of commercially available components.
Value maintenance of the solar plant, since regular cleaning prevents damages caused by permanent soiling.