A Short Guide to Solar Panel Cleaning Machinery and Robotics
In the United States, it is estimated that 1.1 billion solar panels will be going up in the next 8 years just for commercial, industrial, and utility-scale segments. As solar installations grow worldwide so does the need for cleaning them. With the solar panel cleaning market continuing to expand, it´s a good time to learn about the machinery and robotics available to help you face each cleaning challenge.
These guidelines are for the commercial, industrial, utility-scale segments only, not residential.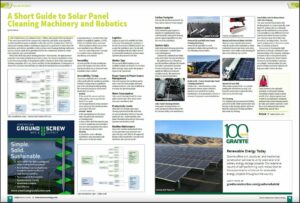 Source: North American Clean Energy · Vol.16 · Issue 2 · 2022 March/April