Made in Germany
The seal of quality "Made in Germany" stands for high-quality and reliable products all over the world. The success recipe behind this is a solid, perfectly coordinated value chain, which is characterised by consistency and transparency. The hyCLEANER® team is convinced that a product can only be good if you know exactly the manufacturing and delivery processes and you are also directly involved. This is why our machines are manufactured in Germany – from development, production and assembly to quality assurance and first-class customer service. With us, you get German engineering skills from a single source – something you can rely on.
Excellent
Our hyCLEANER® cleaning systems are excellent in the true sense of the word. We have a passion for high-quality German engineering and are proud of the awards, certifications and memberships we have received over the years from our partners and independent test organisations. We are constantly working on the first-class quality of our products and look forward to the positive feedback and confidence that is given to us every day.
Financing
Even when it comes to financing your new hyCLEANER® cleaning system, we will, of course, help you with advice and action – because not everything requires a credit line. We are happy to work with you to develop a financing plan tailor-made to your needs and requirements. So you can concentrate on the essentials: Your new hyCLEANER®. Benefit from us with the highest planning certainty and an immediate increase in your sales thanks to more efficient workflows.
News
3. July 2019
"We have another happy customer who was very pleased with the results of hyCLEANER® red EVO II. This façade has been cleaned before manually and at right angle, the sun made it look awful: kind of oily and greasy. They were very interested in EVO II and now pleased with the great results."
12. February 2019
As solar energy evolves and becomes more mainstream, the industry will shift its focus from development and installation to maintenance and performance. The global solar market grew by more than 29% in 2017, according to a study published by Yale University, bringing total operating solar power in the world to 405 GW – 89% of which was installed since 2010.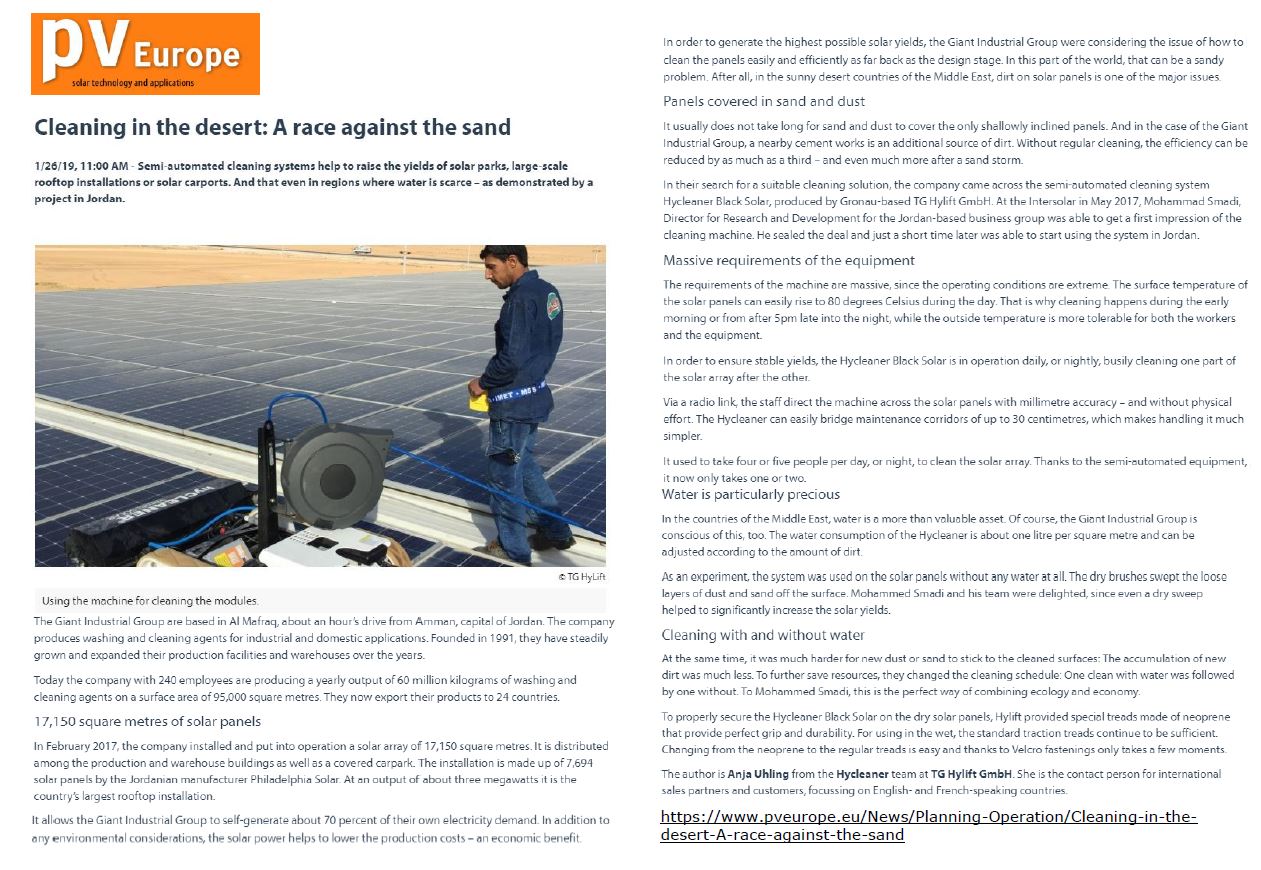 12. February 2019
1/26/19, 11:00 AM – Semi-automated cleaning system help to raise the yields of solar parks, large scale rooftop installations or solar carports. And that even in regions where water is scare – as demonstrated by a project in Jordan. The Giant Industrial Group are based in Al Mafraq, about an hours drive from Amman, capital of Jordan. The company produces washing and cleaning 
Trade shows
CMS, Berlin – 24.09. – 27.09.2019
Interclean, Amsterdam – 13.05. – 15.05.2020
Intersolar, Munich – 17.06. – 19.06.2020