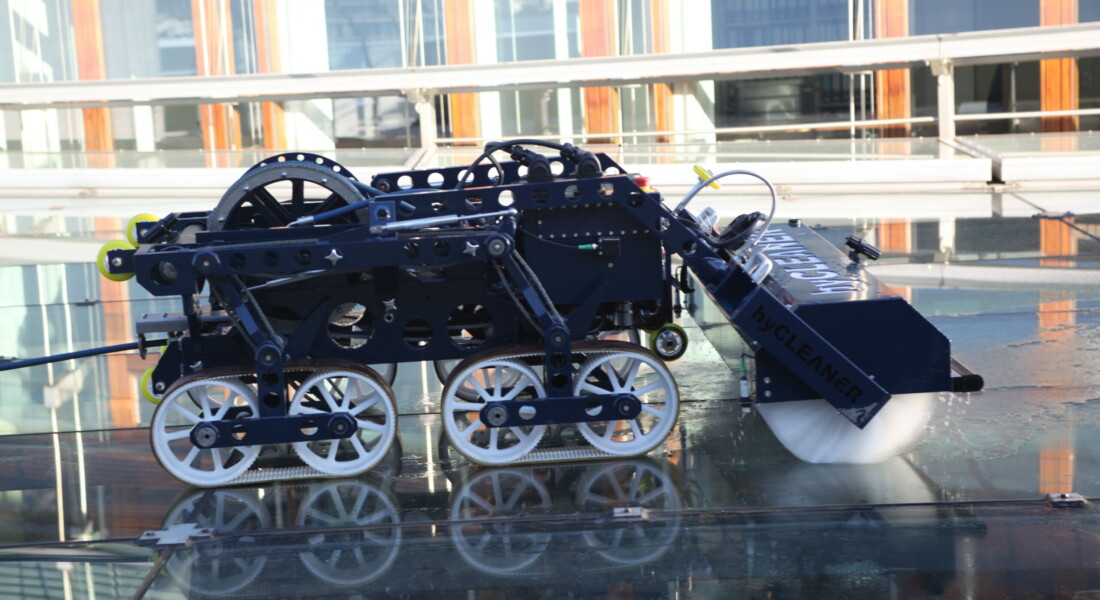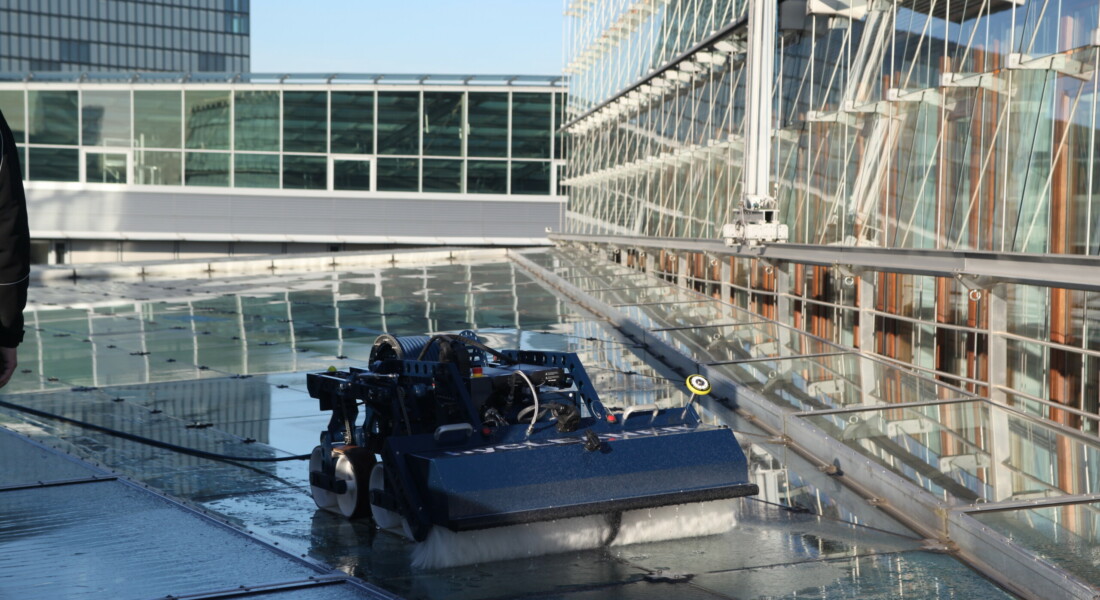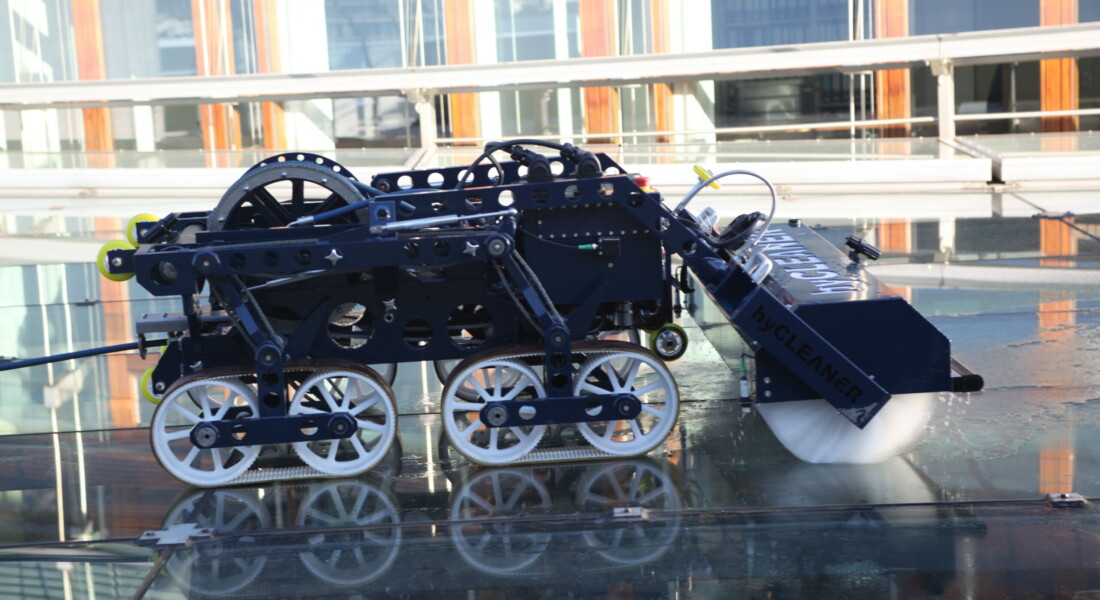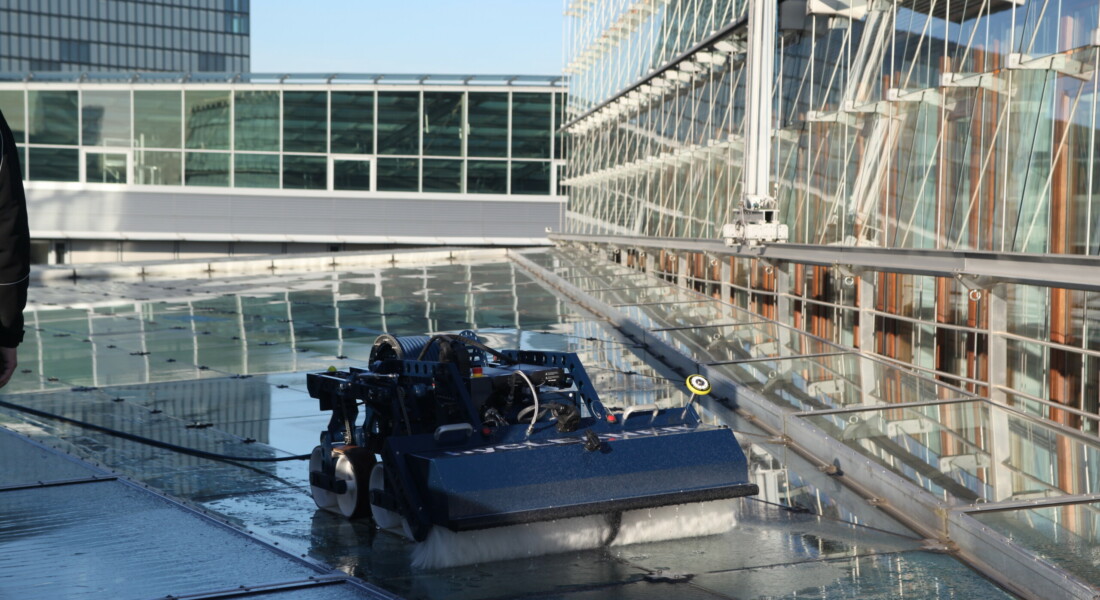 Product specification
The hyCLEANER® blue EVO III – proven technology in series production.
With many application possibilities for roof surfaces that are tough to access and glass roofs of a size of more than 400 m² – designed as safe and cost-effective one-person operation. The intelligent modular construction provides a simple, easy and quick use.
The hyCLEANER® blue EVO III is a real "one-man-machine"!
The modular construction, consisting of 5 components, enables an easy transport and simple assembly of the machine.
Technical data
Machine
Min. length
± 1980 mm
Min. length without brush
± 1380 mm
Min. width
± 1380 mm
Min. width without brush
± 910 mm
Min. height
± 580 mm
Total weight
Chassis ≤ 148 kg
Brush ≤ 42 kg
Traffic load
Chassis 110 kp/m²
(1,10 kN/m²)
Brush 43 kp/m²
(0,43 kN/m²)
Performance*
*depending on degree of soiling
max. 900 m² /hour
| Chassis | |
| --- | --- |
| Gradeability | 25/47 | °/% |
| Slope angle | 45/100 | °/% |
| Tracks (LxW) | ± 560×100 mm |
| Speed | 0-1,0 km/h |
| Max. ground clearance | ± 140 mm |
Motor
Water pressure
min. 120 bar (1740 psi)
max. 160 bar (2300 psi)
Water quantity
min. 9 l/min.
(1.98 gal/min (UK))
max. 12 l/min.
(2.64 gal/min (UK))
Alterations in construction reserved
Benefits for users
The innovative technology of the hyCLEANER® blue EVO III is configurable, self-explanatory and environmentally friendly.
The area performance of the hyCLEANER® blue EVO III is up to 900 m² per hour using min. 2,5 liters of water per m².
In comparison, a person can cover only 50 m² using 20 liters of water per m² and more.
A special treatment of the water is not necessary, like for many other systems, but possible.
Economic arguments
Reduced cleaning intervalls due to high cleaning ability and cleaning quality.
Minimization of labour cost (simple use of the hyCLEANER® blue EVO III after a short training).
Low water consumption compared to manual cleaning methods, gentle on resources.
The whole hyCLEANER® blue EVO III concept is service-friendly and requires only low maintenance.
Increase of the building's value; as regular cleaning avoids damages.
Cost-effective construction. The use of hyCLEANER® blue EVO III can already be considered in the planning stage.