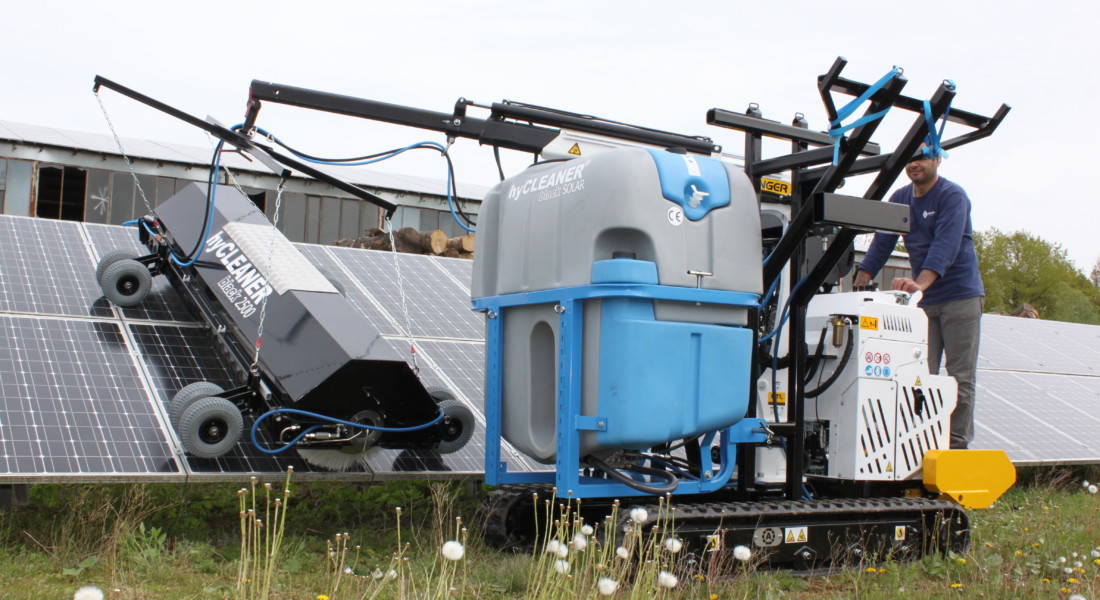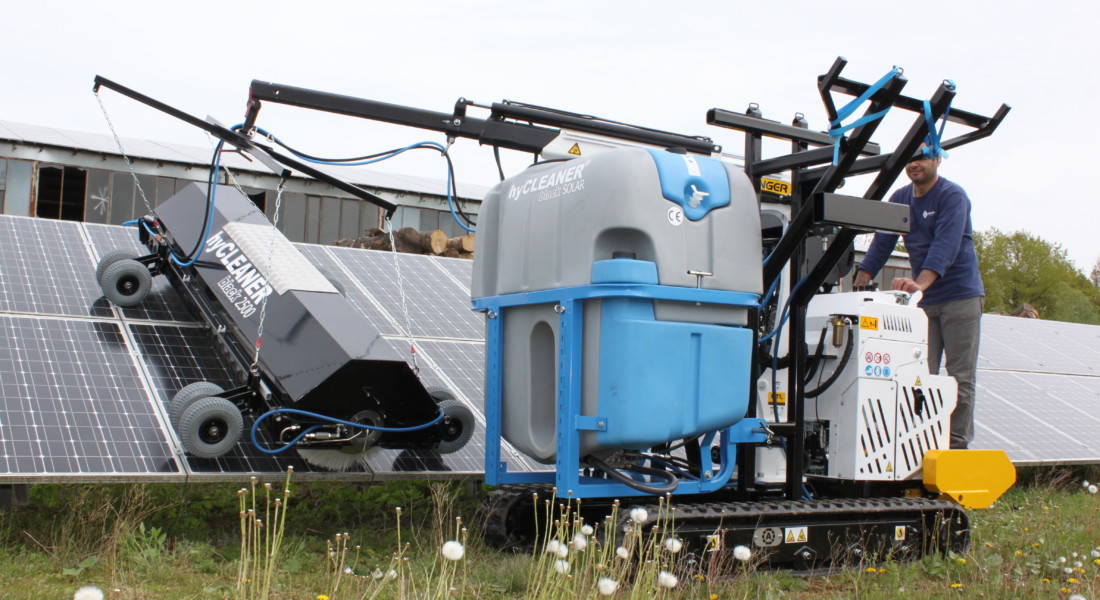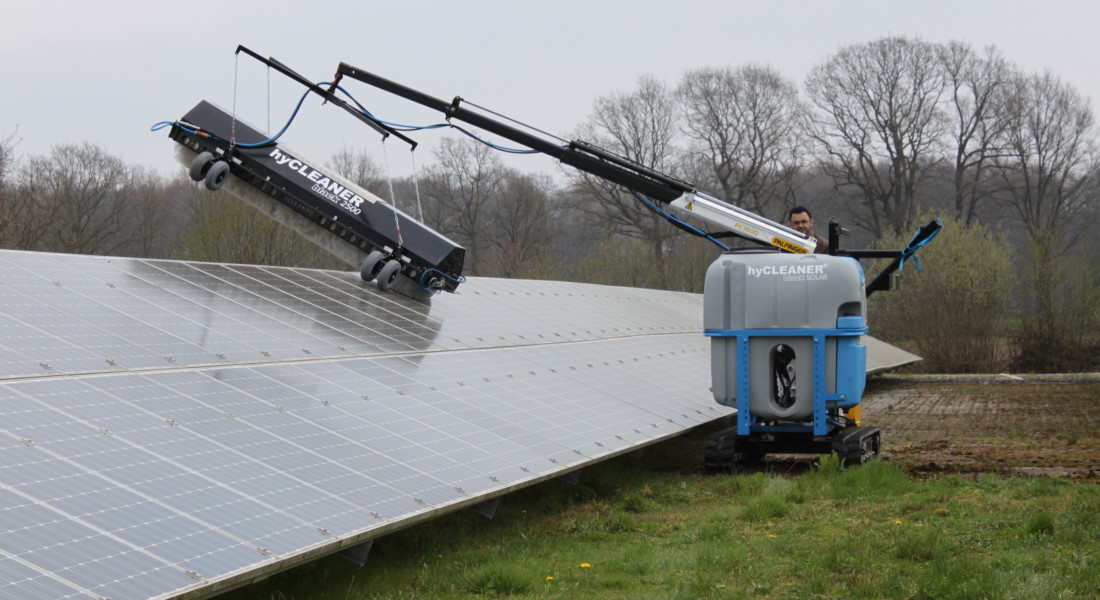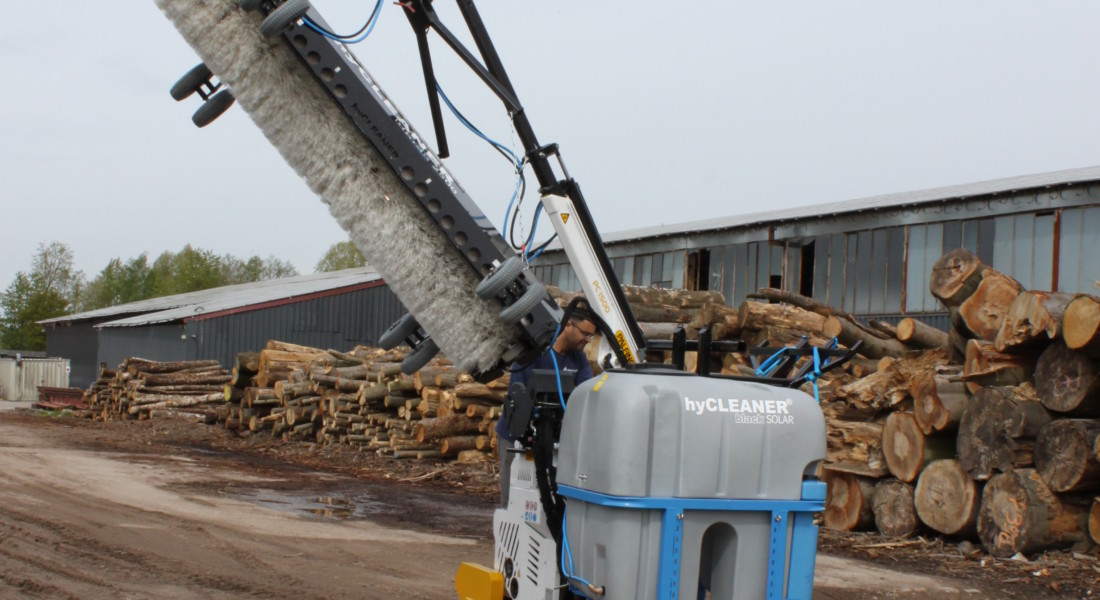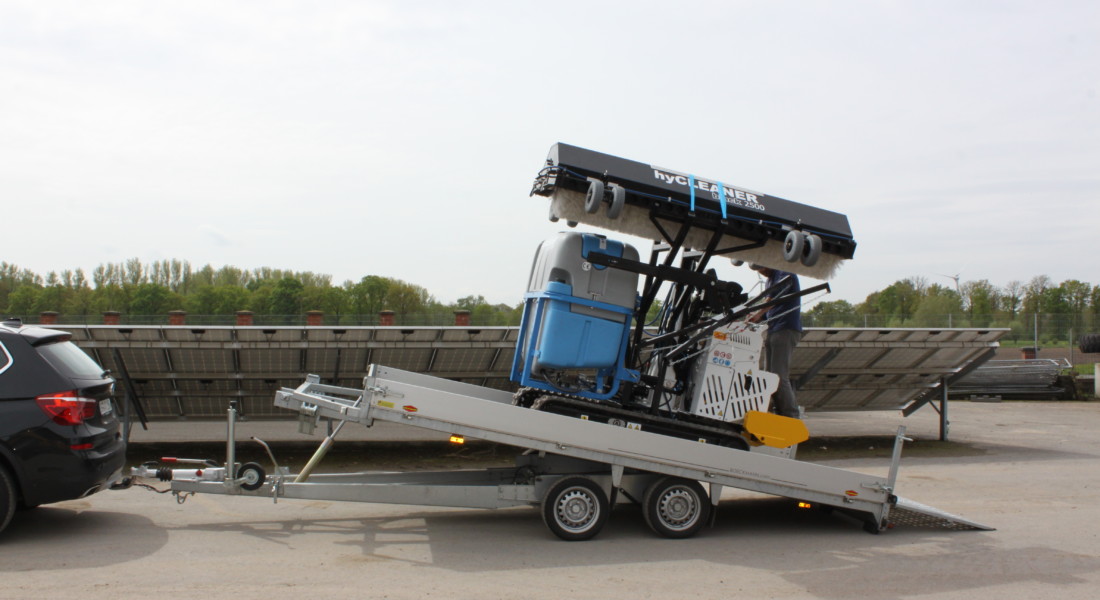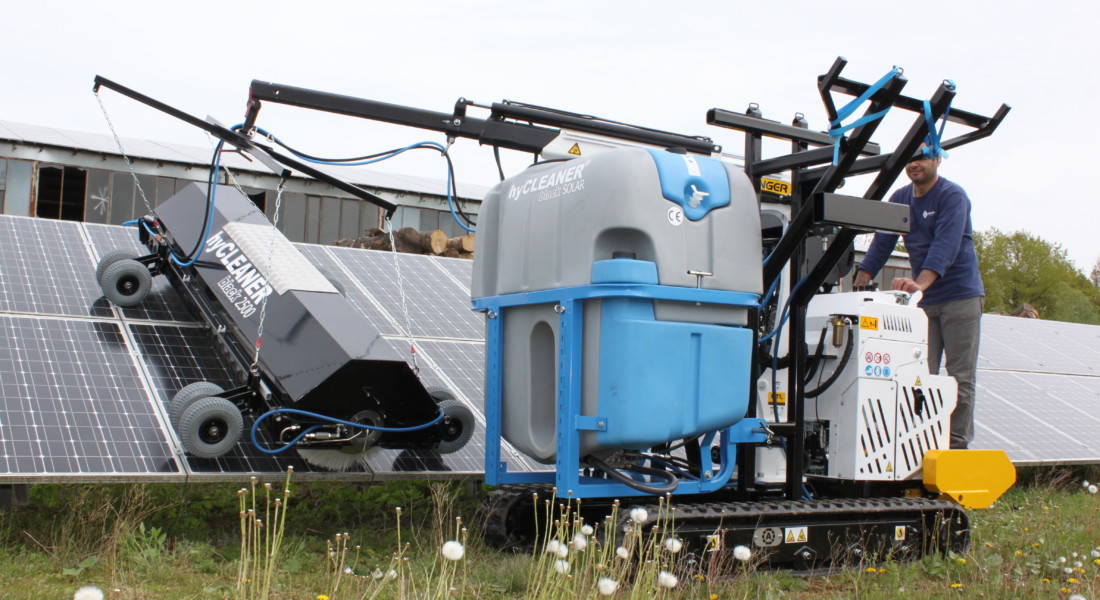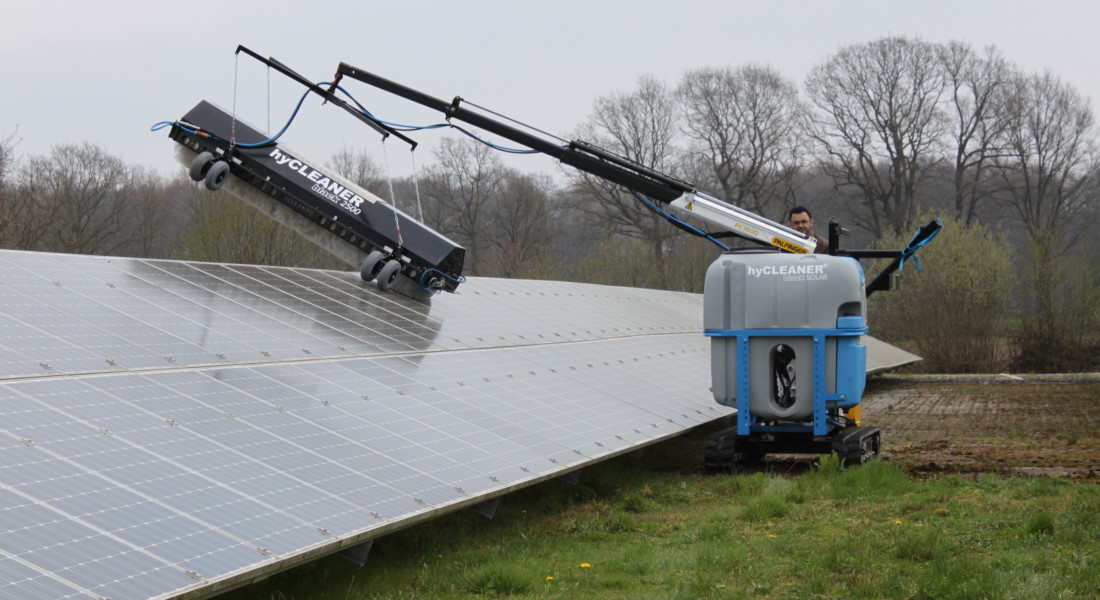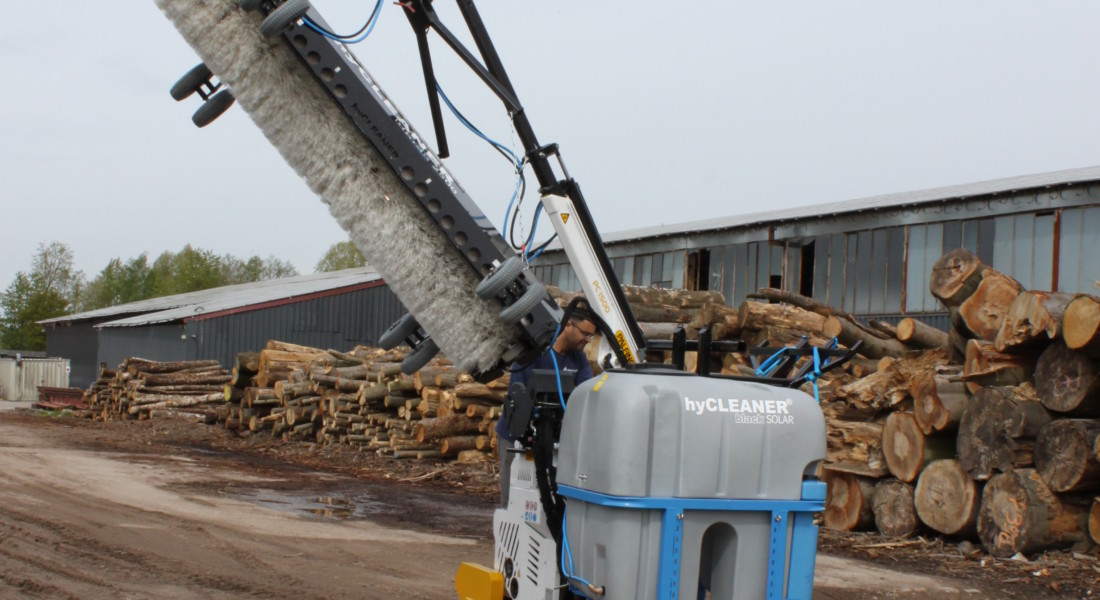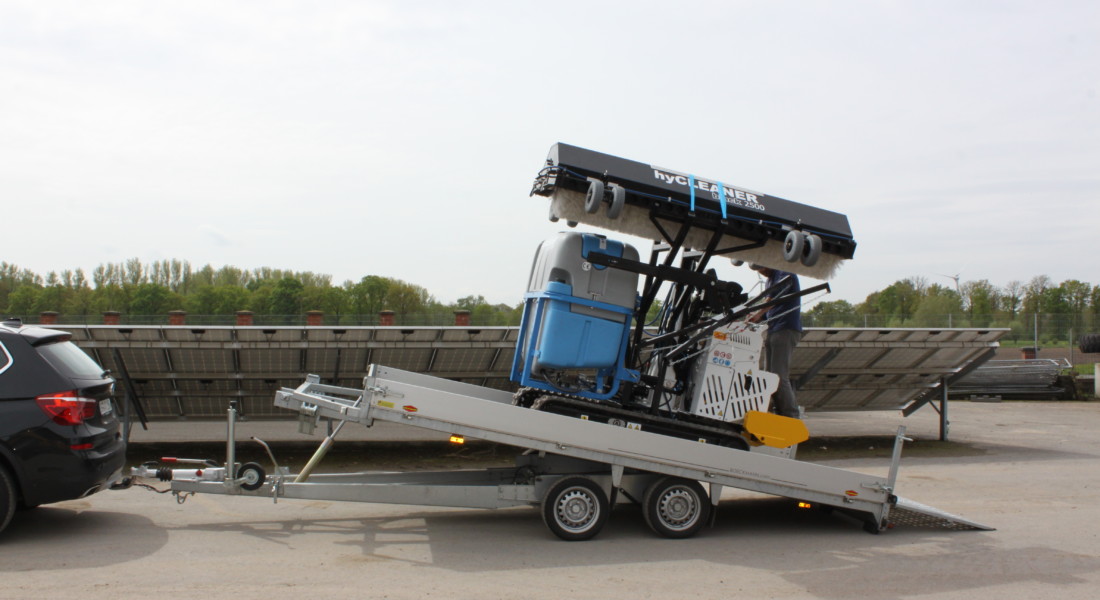 Product specification
hyCLEANER® greenfield 2500 – clean solar and photovoltaic panels ensure optimum performance!
Solar and photovoltaic plants are symbols of a clean energy generation. In order to achieve the optimum efficiency as well as the calculated service life of the plant, the solar panels have to be clean. Permanent soiling caused by environmental influences, dust, flower pollen, mosses etc. reduces the solar performance and efficiency. In the case of agricultural farms and livestock farming, ammonia gases lead to an additionally increased degree of soiling (heavy soiling may reduce profits by 20 – 30 %). Even smallest contaminations caused by bird droppings, mosses, lichens etc. may – if connected in series – reduce the performance and efficiency of the complete plant, as the weakest module determines the total output. However, it is not only the financial loss, which gives reason to concern! Soiling can attack panels' coatings and seals. Incoming water then causes damages to the complete system. The solar and photovoltaic plants become susceptible to faults and failure.
Cleaning of solar surfaces has never been so easy.
So far, cleaning caused major difficulties to many solar and photovoltaic plant operators. hyCLEANER® greenfield 2500 allows an easy, fast and economic cleaning of ground-mounted solar installations . The brush system is mounted onto a flexible and compact rubber tracked chassis for areas that are tough to access. Cleaning is done by moving the lightweight, 2500 mm wide brush over the solar panels. Optimum cleaning results are achieved without any physical stress for the operator. The brush system is flexibly attached to the chassis by means of a special suspension. Driving on rough and uneven grounds is therefore possible; no risk of damaging the solar panels. The brush-system is powered by high-pressure-water.
Technical data
Benefits for users
Easy operation of hyCLEANER® greenfield 2500.
Adjustable driving speed.
Optimum cleaning results due to brush design and high circumferential speed of the bristle tips.
The self-supporting brush also ensures an easy cleaning of the edges.
No physical stress for the operator, therefore high and constantly good cleaning result from sunset to sunrise.
Cleaning operation transversely to the inclination of the solar panels.
The surface load is considerably below the allowed wind and snow loads.
Several fixing and fastening points allow a flat positioning of hyCLEANER® greenfield 2500 on the solar surface.
Use of rainwater, tap water and technical water is possible.
All types of water treatment systems and osmosis plants can be used.
Easy transportation by means of trailer.
Economic arguments
The whole hyCLEANER® greenfield 2500 concept is service-friendly and requires only low maintenance.
Eco-friendly: Perfect cleaning results without adding chemicals or other cleaning agents.
Can be adapted perfectly to different operating conditions thanks to a wide range of accessories.
Use of commercially available components.
Value maintenance of the solar plant, since regular cleaning prevents damages caused by permanent soiling.